Celebrate OJO's Birthday with Huge PlayOJO Tournament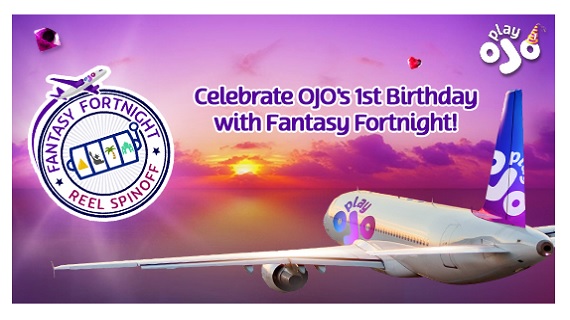 A new PlayOJO tournament called Fantasy Fortnight Reel Spinoff is being held to celebrate OJO's first birthday. Players have the chance to win huge prizes, including a fantasy holiday!
The award-winning, fair play online casino is going all out for its one year anniversary. It's giving away £10,000 worth of prizes in its exciting new promotion, the Fantasy Fortnight Reel Spinoff, which runs from the 26th of February to the 11th of March, 2018.
There are 20 prizes in total and the grand prize is an incredible fantasy escape prize. That's right, if you're the lucky winner to claim this spectacular reward, you'll get to choose a holiday of your choice! Just imagine where you could go.
The winner of the second prize will have the opportunity to go on a huge fantasy shopping spree, with a shopping voucher of their choice, while the third prize winner will get a fantasy TV, and can pick a TV of their choice. Plus, there are lots more exciting prizes up for grabs.
It only takes one ticket to be a winner
For your chance to win, you'll need to get tickets to enter the PlayOJO tournament and be a real money OJO player. There are three ways that you can get tickets.
You can purchase 1 ticket for £1 (there's not limit on the amount that you can buy). You can also get 1 free ticket every time you deposit, and, as long as you're a depositing player, you can claim 1 free ticket every Friday during the promotion.
Your tickets will give you tournament spins that you can play in the Fantasy Fortnight Reel Spinoff. Any wins you get with your tournament spins will convert to points and count on the leaderboard. The more you spin and win, the more points you'll get and the higher you'll climb on the leaderboard, boosting your winning chances (terms and conditions apply).
Don't miss this amazing PlayOJO tournament. It's the biggest giveaway the online casino has had yet. Happy Birthday, OJO!