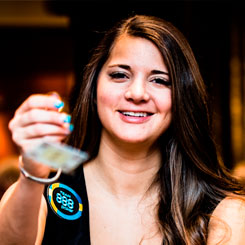 She is more than just a young poker player who's turning heads – Sofia is also a brand ambassador for the world's second biggest poker site, 888 poker.. She learned to play poker at the ripe age of 16 when her brother introduced her to the game online. Since then, she has played over 3 million hands and cashed in at several prestigious events including the WSOP, Irish Open and European Poker Tour.
However, she still considers herself a cash-game player at heart. Apart from poker, her interests include traveling and writing. Sofia is also a part-time Business Management student. As part of our coverage of the rising female stars in Poker, here's a closer look into the life of one such star, Sofia Lövgren.
About your entrance into the poker world and how you started – who inspired you to pursue this career and why? Was it simply a case of succeeding at a young age?
My two brothers introduced me to a lot of sports like football, golf and table tennis. We went downhill skiing every winter and sailboat racing in the summer. All these activities made me very competitive and I have always loved challenges.
One day, my brother showed me online poker and I quickly fell in love with the excitement of this ultimate mind game. At first, I just liked the game itself, but when I started winning I got even more interested and put in a lot of hours in to become even better.
Playing poker in the evenings was providing me with a very good income while I was in school, so when I finished high school I decided to take a break from studies to play poker full-time. This "break" has been going on for seven years now.
I never had any specific breakthrough, like winning a big live event, but instead I climbed the stakes and built my bank roll step-by-step with consistent cash games. Being selected as a Team Pro for PKR at 20 years old, and then four years later as Ambassador for 888poker, the world's second biggest poker site, are also important milestones in my poker career. I chose the poker career myself and feel lucky that my friends and family have been supporting me 100%.
Being a woman, did you ever feel like an outsider in the male-dominated poker environment? If yes, would you mind sharing an experience that really stood out to you?
Personally, I don't feel that it's a problem – actually, I feel it's the other way around. It's quite nice to be one of few women among men and I am nearly always well-treated. I don't think other girls should be afraid to start playing poker, but instead see the possibilities. I'm sure that most of them will enjoy it.
One experience that stood out to me happened in January 2015. I had a day free before the EPT Main Event in Deauville, so I decided to have some fun and play the EPT Ladies Event for the first time. When I sat down at my starting table, I found three men there. I thought, 'what?' I looked around the room and to my surprise saw the same at every table! 22 of the 83 entrants in a lady's event were men! A little while later at the final table we were 5 girls and 4 men. I couldn't help but laugh when I heard the announcement: Congrats, ladies! You've all made the final table! We were playing in France and it's illegal to forbid men to join a lady's event. The men added money to the prize pool and as you can imagine most of them were not very good poker players. I still think this was stupid and incredibly embarrassing for the men.
Based on your experiences, do you think that there are specific dynamics in this mostly male-focused industry? If so, how did you manage them?
Historically, poker was of course only for men who played in underground clubs. Even though the poker scene is totally different today, most live tournaments will still consist of more than 95% men. I understand that some women will feel a bit intimidated the first time they play in a casino, but I promise they will get used to it.
Personally, I feel that learning to play poker in online casinos helped me out a lot. Online you never actually know who is male or female and if you are constantly winning you will always get respect from other players. So, at the age of 20, when I was allowed to visit land-based casinos to play live poker, I was already quite experienced after playing millions of hands online.
Do you have any favorite events or places that you explored in your career?
Las Vegas and WSOP during the summer is my favorite place and time of the year to play poker. There are tournaments running every day and cash games are unlimited. There are always great games to play! There are also so many good restaurants and I love to hang out with my friends there in the summer. I must say that Barcelona is another wonderful place to play poker. It's the perfect place to combine poker games with a vacation. There are a lot of events running there throughout late summer. The casino is also right next to the beach walk and there are nice restaurants and clubs. Poker combined with paella, sun and sangria is a 10/10 for me.
Have you built any connections with other female players? Does being a part of a small female community create bonds?
Yes, for sure! Especially since last summer I have been spending a lot of time with some of the other female poker players. We are about 8-10 girls who meet regularly in different constellations and have a great time while travelling around the world playing poker. We understand each other very well and it's great to be able to discuss poker, support each other and share our experiences while going to different poker stops.
Playing poker in the evenings was providing me with a very good income while I was in school, so when I finished high school I decided to take a break from studies to play poker full-time. This "break" has been going on for seven years now.
What do you think are the main challenges a woman faces when starting a career in poker? Are there still significant barriers that woman poker players face? Do you have any advice that you'd like to share?
I don't think the challenges are much different for women than they are for men if you have the right attitude. Quite often, female players will be underestimated and usually considered as nits. My advice would be, don't get intimidated by this, but exploit the image to make some profitable bluffs or to trap over-confident guys at the tables.
As I mentioned before, learning poker by playing online, where you never actually know who is male or female, helps a lot. Having a very good understanding of the game before you play at a casino certainly helps a lot. Like most things in life, poker demands a huge amount of time and dedication if you want to be an outstanding player.
Is playing poker something you want to continue long-term, or is it a part of some other plan?
I like the game now more than ever and I see myself continuing to play poker over the next few years. Even if I would do something else in the future I'm sure I will still always play some poker on the side. Right now, I am studying business and economics besides playing poker. I have some business ideas connected with poker in Asia that I have been working on as well.