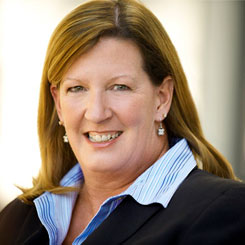 Meet one of the gaming industry's most innovative thinkers and leaders. With 35 years of casino experience as well as exceptional business and communication skills, Virginia McDowell is a highly influential and remarkable woman in the iGaming industry. She is currently the president and board chair of Global Gaming Women (GGW), a non-profit organization with a mission to influence, inspire and support the development of women in the gaming industry through education and mentoring.
From 2007 to 2016, McDowell was a part of Isle of Capri Casinos Inc., first serving as president and COO and then as president and CEO, which marked her as being the first and only female president and CEO of a major gaming operating company. For over three decades she researched corporate strategy and analyzed consumer trends and studied competitive markets, which gave her a unique perspective as a gaming operator.
McDowell has also frequently been featured as a keynote speaker, panelist or moderator at civic organizations, major industry conferences, charitable organizations and universities. Her hard work and dedication has lead to her receiving several prestigious awards. Among her many accolades, she has been named one of Casino Enterprise Management Magazine's "Great Women of Gaming" and one of the 25 Most Influential Women of the Mid-Market by CEO Connection in 2015.
VegasMaster recently had the pleasure to interview Ms. McDowell. Check out our interview below.
How did you get your start in the industry?
I was working at WCAU, the CBS network affiliate in Philadelphia as a production assistant while attending Temple University. The first casinos were just beginning to open in Atlantic City after New Jersey became the second state after Nevada to legalize commercial gaming. When I graduated with a degree in communications in 1980, there were five casinos operating and I applied for and was hired by Bally's Park Place as a publicist.
Why did you choose to work in the gambling industry?
My intent was to continue to work in broadcast journalism. I worked with a reporter who had both a daily radio talk show and an evening news segment. I was responsible for booking his guests and working with the producers on the logistics of his television shoots in both Philadelphia and remotely. I loved my job, but the prospect of getting in on the ground floor of a dynamic new industry intrigued me, so I started researching gaming and Atlantic City. I actually wrote one of my capstone research papers on the question of whether the casinos should have to pay for the infrastructure improvements necessary to support the rapidly expanding industry. It was a difficult decision, but I decided to apply for the position at Bally's Park Place because I saw the potential for professional growth.
How did the industry see women when you started and how does it see them now?
I was fortunate to launch my gaming career in Atlantic City. Because the industry was expanding so quickly, there was a constant shortage of candidates for management positions and tremendous opportunity for employees who were willing to work hard to advance their careers. At that point, the industry was relatively gender blind because of the need for talent. Many of the women in senior management roles across the United States started their careers in Atlantic City. It is my understanding from speaking with my industry colleagues that women were not as accepted at many of the gaming properties in the early days of Las Vegas, and that they faced an uphill battle when they applied for management positions.
Today, women represent about 50% of the workforce of the gaming industry in the United States. One of the most significant issues that we are addressing with our Global Gaming Women programming, however, is that women are significantly underrepresented in the senior management ranks, including the C-Suite and Boardrooms.
What was it like to be the CEO of a big gambling company?
When I was recruited for one of my first corporate positions in gaming, I was hesitant because my children were young and the position would require my family to relocate far from our relatives and support network. However, my boss asked me a question that changed my mind: "How many times do you get the opportunity to change people's lives?"
Serving as the CEO of a $1 billion publicly traded company gave me the ability to positively impact the lives of many stakeholders: our employees, our customers, our investors and the communities where we operated. It was tremendous responsibility and tremendously rewarding.
What is the goal of Global Gaming Women?
The mission of Global Gaming Women (GGW) is to support the development and success of women in the international gaming industry through education, mentorship and networking opportunities. GGW brings together women from all segments of gaming in an effort to enrich their professional and personal lives by providing a wide variety of resources. The cornerstone of our programming is an educational pyramid which offers tiered classes in regional markets across the United States, and in 2017 we will be offering a peer mentoring initiative when we launch Lean In Circles across the United States. More information can be found by visiting our website at globalgamingwomen.org
In 2016, Global Gaming Women launched as an independent charitable organization to deliver high impact programs and events on a global scale that support, inspire, and influence the development of the next generation of female leaders in the gaming and lottery industry. We are supported financially by many of the top operating companies and suppliers in gaming, which allows us to offer nearly all our programming free of cost to women who participate.
Today, women represent about 50% of the workforce of the gaming industry in the United States. One of the most significant issues that we are addressing with our Global Gaming Women programming, however, is that women are significantly underrepresented in the senior management ranks, including the C-Suite and Boardrooms.
Do you have any advice for women starting in the industry now?
Visit our website and get involved, either by applying for one of the educational scholarships or volunteering for GGW events in your region. My advice to women in general is to take every opportunity to learn new skills that will help broaden a resume and to find mentors and sponsors who will take an interest in their careers. Many women lack the confidence to apply for promotions even when they are qualified, and they need to take more chances. If they don't believe in themselves, it will be hard to convince others to believe in their potential. At GGW, we work hard to provide programs that build confidence and give women the opportunity to network with other professionals in similar stages of their careers.
How do you see the future for women in the gambling industry?
While the progression up the management ranks for women in gaming is not as rapid as it should be, every day there are more and more women who are promoted, or who enter gaming after careers in other industries. I moderated a State of the Industry panel at the Global Gaming Expo two years ago, and every woman on my panel had held a significant position outside gaming before joining the industry, including a corporate executive for a Fortune 50 company and a former general counsel of one of America's largest cities. When I asked them why they chose careers in gaming, they said it was a dynamic industry with opportunity and growth potential. I told them I agreed, since this was exactly why I entered the industry 35 years ago.